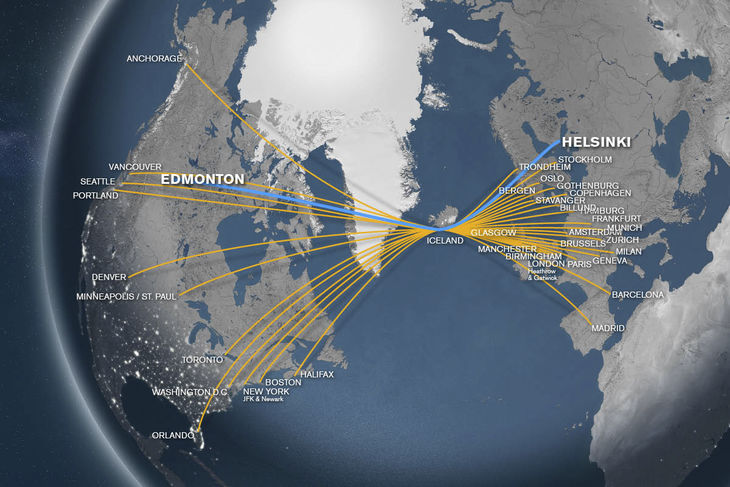 When you choose Icelandair to fly from Edmonton to Helsinki, Finland (YEG-HEL), you're starting your vacation with more money in your pocket thanks to our cheap tickets to Europe. Flights from YEG to Helsinki Airport on Icelandair provide you with cheap airfare along with a refreshing Icelandic travel experience, including up to 150 hours of in-seat entertainment, Wi-Fi access, one complimentary checked bag (except for Economy Light fares), and with a USB charger at every seat, you'll be able to keep your portable devices powered up. With our flights from Edmonton to Europe and over 20 destinations, you'll enjoy our superior on-time performance in addition to easy transits at our Keflavik hub and one of the shortest flying times between North America and Europe. We look forward to providing you the chance to experience why Icelandair has been a trusted leader in aviation during its 75 years of operation, and counting!
Cheap flights to Helsinki with Icelandair!
Want to get out of town with a flight from Edmonton Airport to Helsinki HEL? Say goodbye to The City of Champions and say hello to the capital city of Finland (or Suomi as it is called in Finnish) with cheap plane tickets to Helsinki-Vantaa! And while you're at it, why not give your trip that added perk with a stopover in Iceland. When you select your own Iceland vacation package, you can choose one with the chance to encounter the northern lights in Iceland. Plus, when you visit Iceland with a stopover of up to seven nights, you can experience everything from the Iceland Golden Circle tour, to the Blue Lagoon, the Iceland hot springs, and even the midnight sun if you find yourself on a summertime vacation in Iceland.
Travelers from Edmonton to Helsinki will find plenty to enjoy in Finland's largest city, with a size that's easy to navigate yet busy and full with all the excitement and amenities of cities twice its size. A relaxing introduction to Finland could be indulging in a traditional Finnish sauna, so get those toxins out with a visit to Kotiharjun, the only wood-heated sauna in the city. For some uniquely Finnish history, check out the Sibelius Monument, located in Sibelius Park in central Helsinki. The surreal design was unveiled in 1967 in honor of the famous Finnish composer Jean Sibelius. To see some of the Finnish art scene, check out Kiasma, the Museum of Contemporary Art, for all the latest trends and exhibitions thereof. Even the building itself is a work of art, and well worth an afternoon visit. In Helsinki, Finland, there is truly something for everyone! Check out Icelandair's cheap plane tickets to Helsinki Airport HEL from Edmonton International YEG and plan your vacation now! 
Stopover in Iceland with your flight to Europe!
With plane tickets to Europe on Icelandair to any of our more than 20 destinations throughout Continental Europe, Scandinavia, and the United Kingdom, you can also visit Iceland for up to seven nights at no additional airfare. Whether visiting for 24 hours or up to as much as seven nights, you can tour Iceland during any season. With non-stop flights from Edmonton to Reykjavik, Iceland, you can be relaxing in the warm, tranquil waters of the Blue Lagoon, snorkeling at Thingvellir National Park or snowmobiling over an Icelandic glacier. But of course we recommend you stay even longer!
Fly from Edmonton YEG to HEL Airport with the cheapest flights to Europe
With our shorter flying time to Europe & more than 20 destinations throughout the European continent, combined with our exceptional on-time performance, we invite you to experience why Icelandair has been a trusted leader with its 75 years in aviation
Take advantage of our direct flights to Iceland on your cheap flight to Finland with a stopover and a vacation in Iceland to enjoy any number of Iceland vacation packages available to you
The City of Edmonton was named for the home of James Winter Lake, who was governor of the Hudson Bay Company from 1799-1807, and from the town of Edmonton, England
The North Saskatchewan River Valley in Edmonton, Alberta is the largest stretch of urban parkland in North America.
Edmonton International Airport is located 16 miles southwest of downtown Edmonton, adjacent to the City of Leduc in Leduc County
Some famous names from the Province of Alberta include actor Michael J. Fox, and the character of Wolverine from the 'X-Men' comic book series
Helsinki Airport can also be called the Helsinki-Vantaa airport due to its location in the city of Vantaa. Rest assured, they are one and the same
The original name of Helsinki is Helsingfors, which is actually Swedish. Helsinki was founded by Sweden's King Gustavus Adolphus
When you fly from Edmonton to Helsinki, Finland on our Icelandair flight deals, you'll be flying the only airline to name its planes after the many volcanoes located throughout our home country. By the time you arrive at your destination, you should be able to pronounce the name of the Iceland volcano Grímsnes!
On board your flight and included in your airfare to Finland is your personal in-flight entertainment system which is available on nearly every flight from North America to Europe. A full selection of programming – all 150 hours of it - is available, from movies for the adults, to shows for the kids, including Iceland's very own Lazy Town!
Also included during your YEG to HEL flights is 32" of legroom in Economy Class, along with complimentary non-alcoholic drinks and snacks, and of course our exceptional service
When booked for travel in Economy Comfort from Edmonton YEG to HEL, you can expect 33" of legroom, a blocked middle seat for additional comfort, a complimentary meal in addition to drink services, as well as access to the Saga Class lounge and many other amenities
In Saga Class, in addition to what is mentioned above, you will enjoy 40" of legroom, spacious seats, Saga Class lounge access, and complimentary noise cancelling headphones, plus other ancillary services during your flight from Edmonton to Helsinki HEL
With connections via our hub at Keflavik International Airport (recently inducted into the Director General's Roll of Excellence by Airports Council International based on its consistent ranking for service excellence), you will experience first-hand why Icelandair is the increasingly attractive option for cross-Atlantic flights with service to major metropolitan areas on both sides of the Atlantic