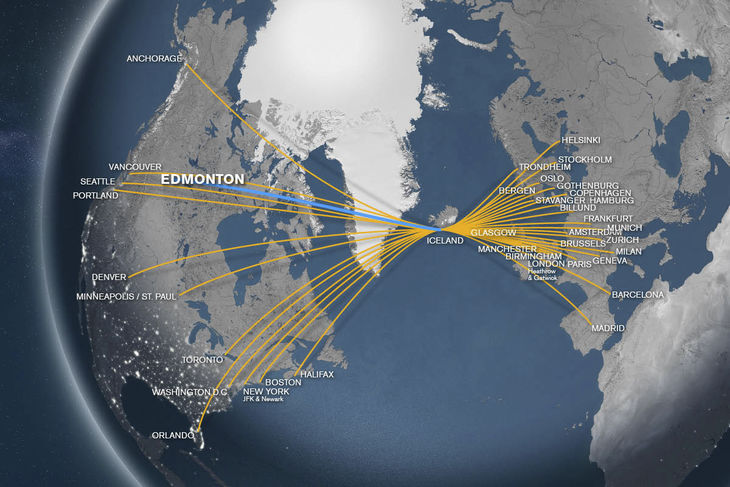 When you fly Icelandair on any of our direct flights from Edmonton to Iceland (YEG-KEF) you're able to start your vacation the right way with cheap plane tickets to Europe. Flights from Edmonton Airport to Iceland KEF on Icelandair provide you with cheap airfare along with a refreshing Icelandic travel experience, including up to 150 hours of in-seat entertainment, USB chargers in every seat, one complimentary checked bag (up to 23 kilos each), except for Economy Light fares, and even Wi-Fi access, just to name a few. We provide flights from Edmonton International Airport to Europe and over 20 destinations, which includes the chance to experience why Icelandair has been a trusted leader in aviation during its 75 years of operation, and counting!
Cheap flights to Reykjavik with Icelandair!
Want to get away for a weekend with a flight from YEG to Reykjavik, Iceland? Say goodbye to the Big E and get acquainted with the world's most northerly capital with cheap plane tickets to Reykjavik! When you decide on the Iceland vacation package of your choosing, you can pick one with the chance to experience the real thing with the northern lights in Iceland. Plus, when you visit Iceland you can encounter everything from the Blue Lagoon, to the Iceland hot springs, to snowmobiling over an Icelandic glacier under the midnight sun if you find yourself on a summertime vacation in Iceland.
Travelers from Edmonton to Iceland, whether interested in nature, history or soaking in local culture & nightlife, will find plenty to enjoy in this vibrant and cozy city. Explore any of Reykjavik's famous museums, from the National Museum to the National Gallery of Iceland, or spend the afternoon shopping and indulging in a cup or two of Icelandic coffee on the main shopping street, Laugavegur. For nature, sign up for an afternoon tour of whale watching right from Reykjavik's Old Harbour, or make a full day of it with one of the many day tour options available, from the Iceland Golden Circle tour, to Snaefellsness peninsula. Check out Icelandair's cheap plane tickets to Keflavik International Airport from Edmonton International Airport and plan your vacation now! 
Fly from Edmonton YEG to Reykjavik KEF with the cheapest flights to Europe
With our shorter flying time to Europe & more than 20 destinations throughout the European continent, combined with our exceptional on-time performance, we invite you to experience why Icelandair has been a trusted leader with its 75 years in aviation
Take advantage of our direct flights to Iceland to enjoy any number of Iceland vacation packages available to you
The City of Edmonton was named for the home of James Winter Lake, who was governor of the Hudson Bay Company from 1799-1807, and from the town of Edmonton, England
The North Saskatchewan River Valley in Edmonton, Alberta is the largest stretch of urban parkland in North America.
Edmonton International Airport is located 16 miles southwest of downtown Edmonton, adjacent to the City of Leduc in Leduc County
Some famous names from the Province of Alberta include actor Michael J. Fox, and the character of Wolverine from the 'X-Men' comic book series
Keflavik International Airport, as it is officially known, was built by the US military during World War II as a base, but shortly after the war ended it began use as both a military and civil airport by both Iceland and the United States, until a full handover was given to Iceland in 2006
Keflavik Airport, which handles all international flights, is about 45 minutes outside of the capital region, while Reykjavik Airport in the city centers handles all domestic flights
Keflavik International is also referred to by the name of its one terminal, the Leifur Eiriksson Air Terminal, named for the famous Icelander Leif Ericson
Many travelers from Edmonton, Alberta to Iceland enjoy stopping at the Blue Lagoon before heading to the city, as it is centrally located right between Keflavik Airport and Reykjavik City Center
There's no better way of getting acquainted with the city and getting your bearings before you tour Iceland than going up to the observation deck at the top of Hallgrimskirkja. You can't miss it, being the tallest church in all of Iceland, and viewable from most anywhere in downtown Reykjavik
When you fly from Edmonton to Keflavik Iceland KEF on our Icelandair flight deals, you'll be flying the only airline to name its planes after the many volcanoes located throughout our home country. By the time you arrive at your destination, you should be able to pronounce the name of the Iceland volcano Eyjafjallajökull!
On board your flight and included in your airfare to Iceland is your personal in-flight entertainment system which is available on nearly every flight from North America to Europe. A full selection of programming – all 150 hours of it - is available, from movies for the adults, to shows for the kids, including Iceland's very own Lazy Town!
Also included during your YEG to KEF flights is 32" of legroom in Economy Class, along with complimentary non-alcoholic drinks and snacks, and of course our exceptional service
When booked for travel in Economy Comfort from YEG-KEF, you can expect 33" of legroom, a blocked middle seat for additional comfort, a complimentary meal in addition to drink services, as well as access to the Saga Class lounge and many other amenities
In Saga Class, in addition to what is mentioned above, you will enjoy 40" of legroom, spacious seats, Saga Class lounge access, and complimentary noise cancelling headphones, plus other ancillary services during your flight from YEG to Iceland
With service at our Keflavik International Airport hub (recently inducted into the Director General's Roll of Excellence by Airports Council International based on its consistent ranking for service excellence), you will experience first-hand why Icelandair is the increasingly attractive option for cross-Atlantic flights with service to major metropolitan areas on both sides of the Atlantic