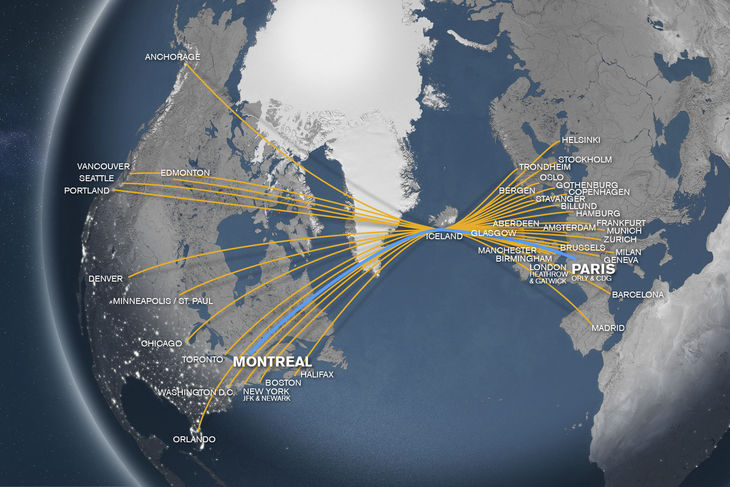 Planning to fly from Montreal Trudeau to Paris Charles de Gaulle (YUL-CDG)? You can begin to plan your vacation with cheap tickets to Europe on Icelandair! Flights from Montreal, Canada YUL to Paris, France PAR on Icelandair provide you with not just cheap airfare, but with it a refreshing Icelandic travel experience, which includes exceptional service, USB chargers in every seat, one free checked bag (except for Economy Light fares), and even Wi-Fi access, just to name a few. We provide flights from Montreal to over 20 destinations in Europe, plus the chance to experience why Icelandair has been a trusted leader during its 75 years of aviation, and counting!
Cheap flights to Paris with Icelandair!
Are you ready to escape the everyday with a flight from Montreal to Paris CDG? Say goodbye to The City of A Hundred Steeples and say hello to The City of Lights with plane tickets to Paris! And of course we naturally suggest you compliment your trip and your transatlantic flight with a stopover in Iceland. You can experience northern lights even before you arrive with our new onboard LED lighting, but with many of the numerous Iceland tour packages you have a chance to experience the true Iceland northern lights. Plus, when you visit Iceland with a stopover of up to seven nights, you can experience everything from the Iceland Golden Circle tour, to Reykjavik's vibrant nightlife, the Blue Lagoon, and snowmobiling over an Icelandic glacier under the midnight sun if you find yourself on a summertime vacation in Iceland.
Travelers from Montreal, Quebec to Paris, France, whether interested in history, fashion, art or wines & cheeses, will find plenty to enjoy in the chic and sophisticated French capital. For history, the Paris catacombs are a fascinating place to start, followed by spectacular sunset views from atop the famous Eiffel Tower. When visiting the Louvre be prepared to spend a day, or a few days, or a few weeks, to give yourself enough time to see the art collection in one of the largest museums in the world. Unwind with a day of shopping the endless amount of boutique shops, or sit and relax with some wine & cheese at one of Paris' colorful and cozy sidewalk cafés. Check Icelandair's cheap plane tickets to Charles de Gaulle Airport from Montreal YUL and plan your vacation now!
Stopover in Iceland with your flight to Europe!
With Icelandair plane tickets to Europe, to any of our more than 20 destinations throughout Continental Europe, Scandinavia, and the United Kingdom, you can also visit Iceland for up to seven nights at no additional airfare. Whether visiting for 24 hours or 160, you can travel Iceland during any season. With non-stop flights from Montreal, QC to Reykjavik, you can be soaking in the warm, tranquil waters of the Blue Lagoon, going for an ATV ride across a beautiful lava field or snowmobiling over an Icelandic glacier. But of course we recommend you stay even longer!
Fly from Montreal YUL to Paris CDG with the cheapest flights to Europe
We invite you to experience why Icelandair has been a trusted leader with its 75 years in aviation with our shorter flying time to Europe & more than 20 destinations throughout the European continent, combined with our exceptional on-time performance
Take advantage of our direct flights to Iceland on your cheap flight to Paris with a stopover and a vacation in Iceland to enjoy any number of Iceland travel packages available to you
Montreal, Quebec is one of the top five largest French speaking cities in the world
No building in Montreal, Canada can be any higher than Mount Royal, for which the city was named, and located just west of the city's downtown
The "Underground" in Montreal is not the city's subway system, but a network of underground tunnels connecting everything from museums to hotels to banks. Because of the city's bitterly cold winters, this system makes getting around Montreal that much easier
Montreal Trudeau International Airport used to be known as Montreal Dorval International Airport, and was the second airport in Montreal to offer international flights, along with Montreal Mirabel, which is now used for cargo flights only
Paris Charles de Gaulle airport, as it is officially known, is named for the leader of the Free French Forces in the 1940's, Charles de Gaulle. He was also the founder of the fifth and current constitution of France, the Fifth Republic
CDG airport is also referred to by locals as Roissy Airport, due to its partial location in Roissy-en-France
Charles de Gaulle airport is located just 16 miles northeast of Paris, and is easily accessible via the RER, and other options including taxi, bus and rail
When you fly from Montreal Trudeau International to Paris on our Icelandair flight deals, you'll be flying the only airline to name its planes after the many volcanoes located throughout our home country. By the time you arrive at your destination, you should be able to pronounce the name of the Iceland volcano Tindfjallajökull!
On board your flight and included in your airfare to CDG is your personal in-flight entertainment system which is available on nearly every flight from North America to Europe. A full selection of programming is available, from movies for the adults, to shows for the kids, including Iceland's very own Lazy Town!
Also included during your YUL to Paris flights is 32" of legroom in Economy Class, along with complimentary non-alcoholic drinks and snacks, and of course exceptional service
When booked for travel in Economy Comfort from Montreal YUL to CDG, you can expect 33" of legroom, a blocked middle seat for additional comfort, a complimentary meal in addition to drink services, as well as access to the Saga Class lounge and many other amenities
In Saga Class, in addition to what is mentioned above, you will enjoy 40" of legroom, spacious seats, Saga Class lounge access, and complimentary noise cancelling headphones, plus other ancillary services during your flight from YUL to Paris de Gaulle
With connections via our hub at Keflavik International Airport (recently inducted into the Director General's Roll of Excellence by Airports Council International based on its consistent ranking for service excellence), you will experience first-hand why Icelandair is the increasingly attractive option for cross-Atlantic flights with service to major metropolitan areas on both sides of the Atlantic