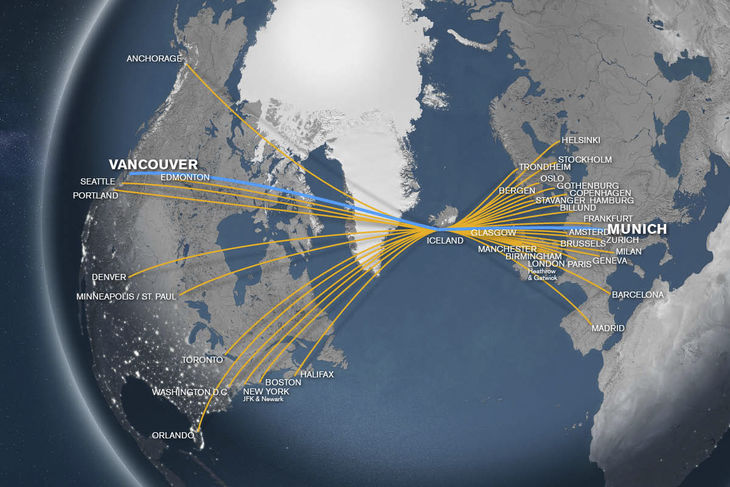 Start your vacation with more spending money in your pocket when you fly Icelandair on our cheap tickets to Europe. For the best fares and an unparalleled flying experience, choose Icelandair to fly from Vancouver to Munich, Germany (YVR-MUC). Icelandair provides one complimentary checked bag, except for Economy Light fares, hours of in-seat entertainment, Wi-Fi access on most flights, and a USB power outlet at every seat to power up everything from your smartphone to your laptop. These are just a few benefits - along with our cheap airfare to Europe of course – of the refreshing Icelandic travel experience during your flights from Vancouver, BC to Munich. Not only that, but you'll enjoy a quick and easy transit at our Keflavik hub, our superior on-time performance, and one of the shortest flying times from North America with our flights from Vancouver to Europe and more than 20 destinations throughout the European continent. We look forward to providing you the chance to experience why Icelandair has been a trusted leader in the airline industry for more than 75 years.
Cheap flights to Munich with Icelandair!
Looking for a flight from Vancouver YVR to Munich MUC so you can experience a bit of what the world has to offer? Then fly Icelandair with our cheap plane tickets to Munich by saying goodbye to Terminal City and say hello to Millionendorf, or the Village of a Million People. And when you book Icelandair to Europe, consider adding a stopover in Iceland to your trip! When you do, you'll have the chance to encounter the northern lights in Iceland when you select your own Iceland vacation package. Plus, when you visit Iceland with a stopover of up to seven nights at no additional airfare, you'll find plenty of things to do in Iceland, from the Blue Lagoon, the midnight sun during a summertime vacation in Iceland, the Iceland hot springs, and of course the not-to-be-missed Iceland Golden Circle tour.
Travelers from Vancouver Airport to Munich Airport will find plenty to do in the capital city of Bavaria, and the third-largest in Germany. With the country's well-known history in the world of automobiles, a visit to Munich wouldn't be the same without a stop at the BMW Museum. Even if cars are not your thing, the architecture of the buildings, and the industry's importance to the German economy, make this a great stop worth considering. If you make your way to Munich in late September, taking part in the annual two-week Oktoberfest – the largest beer festival in the world - is an absolute must. To experience the heart of Munich, find your way to the central square of Marienplatz where subway lines meet with cafes and restaurants to create the true center of the city, representing all that is beautiful, picturesque Munich. With all this and so much more in Munich, Germany, there is truly something for everyone! Check out Icelandair's cheap plane tickets to Munich Airport from Vancouver International Airport and plan your vacation now!
Stopover in Iceland with your flight to Europe!
Visit Iceland for up to seven nights at no additional airfare with plane tickets to Europe on Icelandair to any of our more than 20 destinations throughout Scandinavia, the United Kingdom, and Continental Europe. You can tour Iceland during any season, whether visiting for 24 hours or up to as much as seven nights. With non-stop flights from Vancouver to Iceland, you can be snorkeling at Thingvellir National Park, snowmobiling over an Icelandic glacier, or relaxing in the warm, tranquil waters of the Blue Lagoon.
Fly from YVR to MUC with the cheapest flights to Europe
With our exceptional on-time performance and shorter flying time to Europe & more than 20 destinations throughout Europe, we invite you to experience why Icelandair has been a trusted leader with its more than 75 years in aviation
Take advantage of our direct flights to Iceland on your cheap flight to Germany with a stopover and a vacation in Iceland to enjoy any number of Iceland vacation packages available to you
The proper German name for Munich is München, but in Bavarian it is known as Minga
Even though Germany's autobahn is known for its relative lack of speed limits, the average driver cruises at a rate of 87mph 
Located just under 18 miles northeast of the city centre, Munich Airport is one of the largest in Europe, and named after a former Bavarian Prime minister, Franz Josef Strauss
Vancouver is second only to Los Angeles for its television show production and the third largest in North America for theatrical film production, hence the name "Hollywood North" which has become one of its unofficial nicknames
Nanaimo Bars, a popular Canadian desert item, is said to have originated at Vancouver Island in British Columbia
Although there have been attempts to build at least one over the years, Vancouver, British Columbia has no freeways in the downtown area
Vancouver International Airport, the second busiest in Canada, is located on Sea Island, just 8 miles from downtown Vancouver
By the time you arrive at your destination, you should be able to pronounce the name of the Iceland volcano Ljósufjöll, because when you fly from Vancouver YVR to Munich MUC on our Icelandair flight deals, you'll be flying the only airline in the world to name its planes after the numerous volcanoes located throughout our home country.
On board your flight and included in your airfare to Munich, Germany is your personal in-flight entertainment system which is available on nearly every flight from North America to Europe. A full selection of programming – all 150 hours of it - is available, from Iceland's very own Lazy Town for the kids, to the latest hit movies
Also included during your YVR to Munich flights is 32" of legroom in Economy Class, along with complimentary non-alcoholic drinks and snacks,  and of course our exceptional service
When booked for travel in Economy Comfort from YVR-MUC, you can expect 33" of legroom, a blocked middle seat for additional comfort, a complimentary meal in addition to drink services, as well as access to the Saga Class lounge and many other amenities
In Saga Class, in addition to what is mentioned above, you will enjoy 40" of legroom, spacious seats, Saga Class lounge access, and complimentary noise cancelling headphones, plus other ancillary services during your flight from Vancouver to MUC
Recently inducted into the Director General's Roll of Excellence by Airports Council International based on its consistent ranking for service excellence, Keflavik International Airport will provide you a first-hand account of why Icelandair is the increasingly attractive option for cross-Atlantic flights with service to major metropolitan areas on both sides of the Atlantic