Price:               $145 per person; May 1 - December 31, 2015
Departures:     Daily; 10:00am (exc. December 25 and January 1).
                         Daily; 2:00pm (exc. December 24, 25 and 31).                                                                                                NOTE: Hotel pick-ups begin 90 minutes before scheduled tour departure
Duration:         5 - 6 hours (including 1.5 - 2 hours riding time)
Tour Code:      IHD/41
Ride across the beautiful Icelandic lava fields on a fabled Viking horse when you book this add-on tour, then change your horse for a van where you're driven to the mineral-rich Blue Lagoon just a 30-minute drive away. It's an ideal way to rest your tired muscles in hot mineral water before returning to your hotel in Reykjavik. Remember to bring your swimsuit and towel!
Important: Entrance fee to the Blue Lagoon is not included in this tour price. Availability to the Blue Lagoon is limited, and the Blue Lagoon requires all guests to book their visit in advance.  You should purchase your Blue Lagoon admission before booking this tour.  More information on purchasing entry here. The riding level for this tour is beginner. Horseback riding is not recommended for children 7 and under, pregnant women, and those weighing over 243 pounds. For passengers with early morning arrivals in Iceland on flights from North America, the morning tour is not recommended as passengers generally arrive at their hotel around 8am, and any delays could cause you to miss the tour departure. Icelandair cannot reimburse passengers for unused portions of a package or land only travel once travel starts. The afternoon departure is ideal for those wishing to take this tour on their arrival day. This tour is not recommend for passenger departure day.
Booking Directions
Click on the gold "Book Now" button above, then select your arrival date & and the number nights of Iceland, then find this add-on under 'Horseback Riding' on the following screen
If your booking is not in conjunction with a previously booked Fly & Hotel vacation package, be sure to provide the name of your hotel when prompted during the booking process
After submitting your payment details, a confirmation will be sent to the email address provided at the time of booking
Image Guide
1 Horseback riding can be enjoyed year-round in Iceland 2 Riding in an area of lava landscapes 3 The amazing Blue Lagoon 4 Family enjoying the Blue Lagoon
Pick-up at your Reykjavik hotel and transportation to the tour at Ishestar (this tour will not pick up passengers staying at hotels outside of Reykjavik)
Guided horseback tour
Riding boots, helmets, raingear and warm overalls are all provided during horseback tour
Meals and refreshments in tour other than those mentioned in itinerary
Admission to the Blue Lagoon (approximately $58 per person)
Swimsuit, towel
Please note this tour will not pick up passengers staying at hotels outside of Reykjavik
No refund for unused travel services or land arrangements once a tour starts
Please note that you cannot take any backpacks or bags with you during the horseback ride but there are safety boxes at the Riding Center where you can store your valuables
Riding gear is not necessary for this tour. However, if you do bring your own riding gear (riding boots, riding trousers, jackets, hats, gloves, etc.) it needs to be washed in 40°C/104°F temperature water, dry-cleaned or disinfected before arriving in Iceland. Used leather riding gear may not be brought into the country
All inquiries on change or cancellation requests must be sent to ca@icelandairholidays.com
Full Icelandair package terms and conditions can be found here
Similar Packages
Coach transfers between Keflavik International Airport, hotels & guesthouses throughout Reykjavik, and Reykjavik Domestic Airport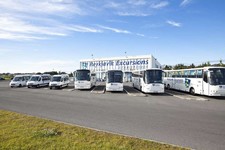 Book a tour of Iceland's famous Golden Circle followed by a relaxing visit to local geothermal baths with this exciting tour add-on!
Discover the amazing Icelandic horse on this exciting day tour combining horseback riding in lava landscapes and a multimedia theatrical show highlighting the role they play in Iceland's history and legends!