From $160 per person
Transfers between Keflavik International Airport, the Blue Lagoon, and hotels & guesthouses throughout Reykjavik.
Book Now
Price
$160 per person
Free; children 13 and under traveling with an adult (ages 0-1 not allowed)
Dates
June 1, 2017 - May 31, 2018 (exc. Dec 25, January 1)
Departures
7:30am, year-round
8:30am, year-round
Duration
3 - 4 hours
Tour Code
BL/10
Notes
Blue Lagoon bookings can be made 6 months in advance, based on availability.
This morning transfer & unguided tour is a great option for travelers arriving early morning in Iceland on evening flights from North America. A great way to shake off jetlag, wake up to Iceland and enjoy one of Iceland's best known attractions with a swim in the Blue Lagoon. Afterwards, you are transferred to your hotel in Reykjavik at 12:15pm with an approximate arrival of 1:00pm
IMPORTANT
Departure time subject to confirmation by the local tour operator and Blue Lagoon.

Please bring swimsuit and towel (these can be rented, for a fee). Luggage storage is available at the Blue Lagoon for $6 per bag
BOOKING DIRECTIONS
Click on the gold "Book Now" button above, then select your arrival date & and the number nights of Iceland, then find this add-on under 'City & Transfers' on the following screen
If your booking is not in conjunction with a previously booked Fly & Hotel vacation package, be sure to provide the name of your hotel when prompted during the booking process
After submitting your payment details, a confirmation will be sent to the email address provided at the time of booking
Admission to the Blue Lagoon
Transfer to and from the the Blue Lagoon
Swimsuit
Towel
Luggage storage (ISK 550)
Similar Packages
Spend an afternoon or evening relaxing in the soothing, surreal and otherworldly waters of the Blue Lagoon!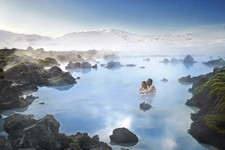 Spend an evening gazing at the luminous northern lights, bathing in hot springs, and sampling Icelandic cuisine with a delicious buffet-style dinner.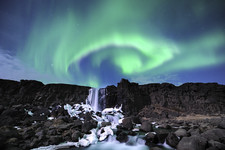 Enjoy the healing powers of the geothermal water, soak in a natural pool, listen to the bubbling hot spring in the steam rooms or take a dip in the refreshing lake.